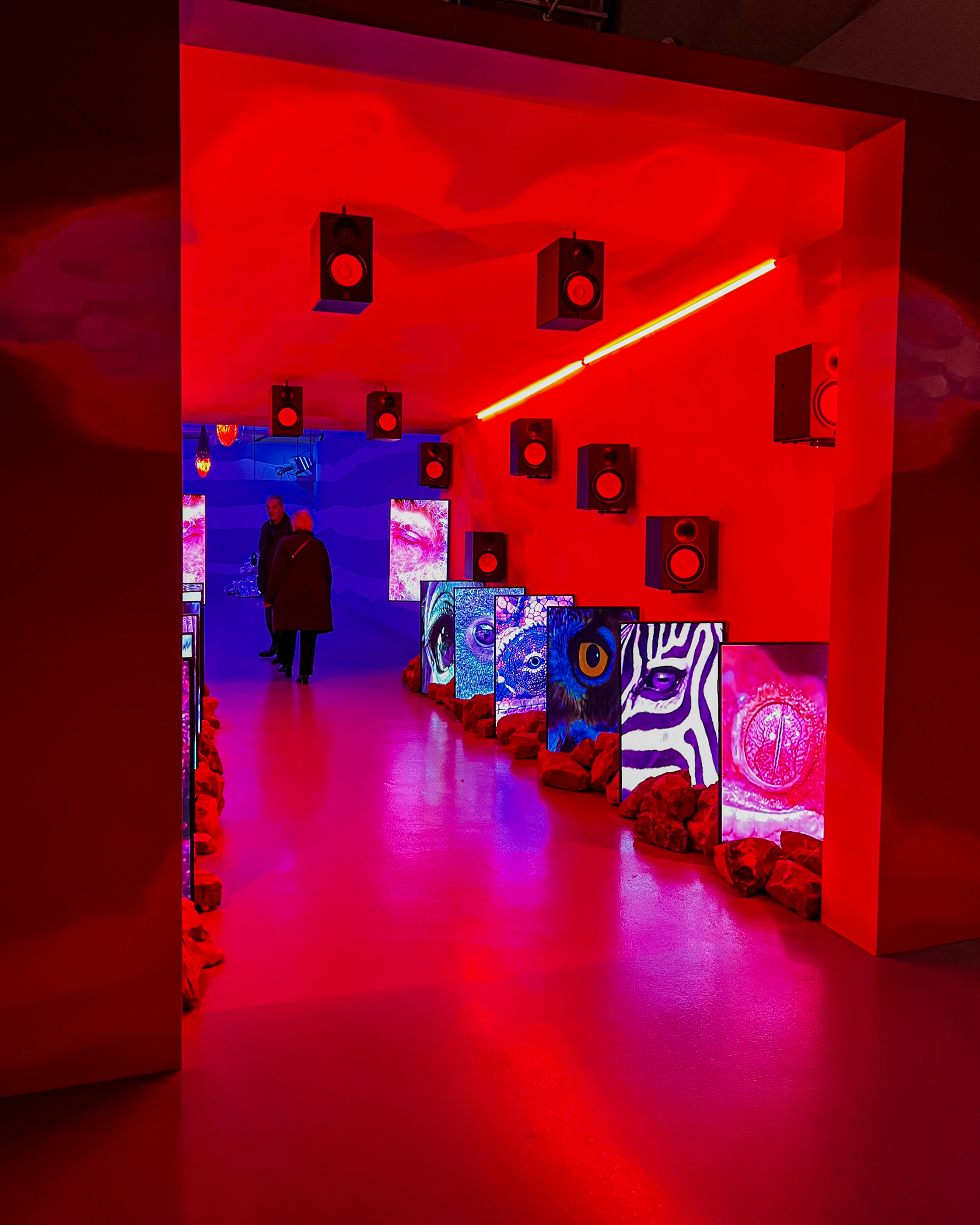 12 Nov

TURNER PRIZE 2022 – Tates Liverpool

The Turner Prize, named after the English painter J. M. W. Turner, is an annual prize presented to a British visual artist.

The prize is awarded at Tate Britain every other year, with various venues outside of London being used in alternate years. Since its beginnings in 1984 it has become the UK's most publicised art award. The award represents all media.

The Turner Prize in to Tate Liverpool in 2022. The prize is awarded to a British artist for an outstanding exhibition or other presentation of their work in the preceding year as determined by a jury.

The four shortlisted artists for the Turner Prize 2022 are:

Heather Phillipson
Ingrid Pollard
Veronica Ryan
Sin Wai Kin

I like to experience the exhibition without previous  knowledge from the artist and their agenda and inspirations so I can actually submerge myself in the art, and trying to feel the message they are trying to show. 

I found the works of Sin Wai Kin was the most appealing and speaking to me. The way the artist prepared the whole exhibition, as one coherent and immersive experience. For me it is not the most important if I do or  do not I understand or agree with all the messages they show is secondary. As believe we grow as artists and as humans by being open to different ideas outside your "bubble".    
Sins work inspired me, and made me feel and smile, and think about what they are saying. And I found it resonating with the works. 
After reading and watching the artist exposition, I again found myself agreeing and disagreeing with the artist at the same time. 
One one hand I do have very similar influences, I can say we share some of the same problems… but I do not feel the need to express those through my art. I do not feel I need to be another voice who amplifies queer voices, or the racist problems, as I believe those messages creates more division and hatred than actual change (I am not saying that sins works or any other artists form the Turner Prize create hate and division- this is a general observation). There must be a way where artists do not have to be an activists for a cause. 


Unfortunately the whole Tate exhibition left me feeling depressed as yet again I felt that there is no space for artists who do not follow an activism road in the (in particular British) art world. 

At the same time I loved listening to the artists statemetns on the video after seeing all the exhibitions, they way they explain the idea and research behind the work- this is something I need to learn how to do. I always believed art needs no explanations – and if you get it you get it, if you dont… art symbols, the art history was always part of my language since when I was a child, so this is natural for me. Yet I see that in modern world we should give more background and explanations to what we create as artists… it doesn`t need to mean that I become an activist to a case I am showing… it just means I know what I stand for and I am not afraid of expressing it. Does that make me an activist? Maybe. Maybe I become an activist of my own cause, and stop caring about what others will think. 

Sin Wai Kin (fka Victoria Sin) was born in Toronto, Canada in 1991. They studied at Camberwell College of Arts, University of the Arts London and the Royal College of Art, London.

Sin's practice pivots around the use of speculative fiction within performance, moving image, writing and print, to question the idealised image and the collective gaze. Identifying as mixed race and non-binary, their work creates fantasy narratives, to interrupt normative processes around issues of desire, identification, and objectification. Sin's use of performance and particularly drag began as a means of deconstructing and challenging misogyny and racism in and outside of the queer community.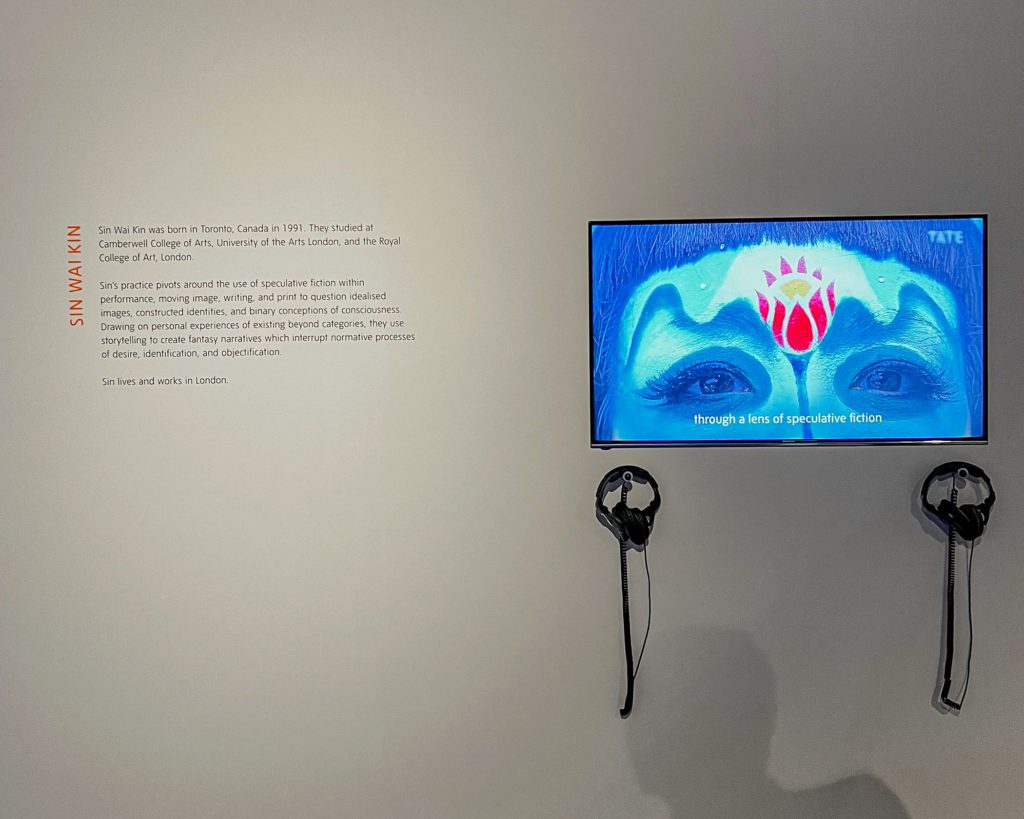 Heather Phillipson was born in Haringey, North London, in 1978. She studied at the University of Wales Institute Cardiff (now Cardiff Metropolitan University), and at Central St Martins, earning her PhD from Middlesex University.
Phillipson's work involves collisions of wildly different imagery, materials, and media. Through multiple, unexpected combinations, she conjures absurd and complex systems and worlds. Her multimedia projects include video, sculpture, installation, music, poetry, and digital media. She describes her works as 'quantum thought experiments.' They often carry an underlying sense of threat – a suggestion that, in the artist's words, 'received ideas, images and the systems that underpin them may be on the verge of collapse.'
I enjoyed the space that Heather created. I wasnt sure about the use of the silver foil… as it looked cluttered. But overall I loved the atmosphere the artist created with the sound videos and moving objects. It was very interesting.