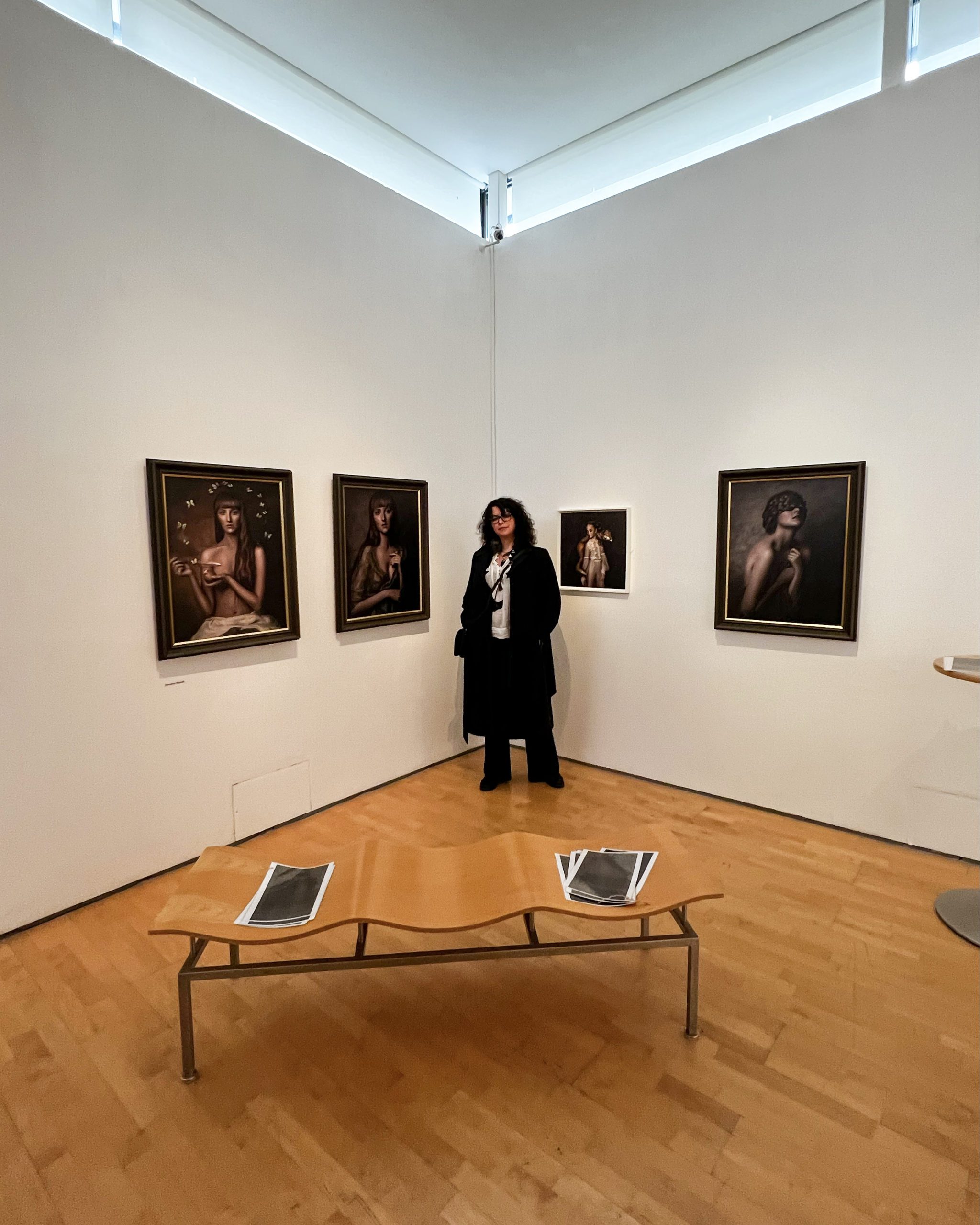 20 Mar

Reinterpreting Rembrandt – National Gallery Tour Exhibiton

The works of award-winning Flintshire based Polish artist, Karolina Skorek, have just been hung next to portrait of Saskia Van Uylenburgh by master Rembrandt Harmenszoon van Rijn, as part of the National Gallery Masterpiece Tour in Newtown, Wales.

Karolina Skorek is a neurodiverse artist-photographer and specialist in the field of portrait photos, digitally transformed into the atmosphere of what she calls "magical realism." Originally from Sosnowiec, Poland, and now based in the UK, Skorek's path to photography started in glass design and painting, eventually moving towards the photographic arts. Over the course of five years she trained at the Academy of Fine Arts in Wroclaw, in the glass design studio of prof. Małgorzata Dajewska and professor Zbigniew Horbowy. Her move towards painting developed under the supervision of prof. Krzysztof Skarbek, who is considered one of the most prestigious surrealists of contemporary Polish painting. The journey eventually led her to the Academy of Fine Arts in Wroclaw, after which she moved to the UK to graduate in a masters and ultimately grow to become one of the UK's most recognised fine art photographers. 

This exhibition of her work in such a renowned gallery is an exciting moment for British photography as it welcomes in Skorek's unique methods of combining modern digital tools with traditional methods of photography in a way rarely seen in such a mainstream capacity. Her atmospheric works, which nod to both fairy tales and Slavic folk tales are already generating public excitement and it's easy to understand why: prior to this exhibition the art world has rarely celebrated surrealist multi-hyphenates such as Skorek on this scale.

Skorek commented : "I'm extremely excited to hear the public's reaction already to the exhibition. My works are surreal and expressionistic, but can sometimes be difficult to place in one style, so it's wonderful to hear so many people resonating and connecting with them. My pieces are often intertwined with themes nature, showing the unity and balance between man vs nature, masculine vs feminine but within them is the overlying message of unity and strength. I think the world right now needs artists who capture the importance of unity. And as a Polish artist, who's been deeply affected by current affairs on my native borders, I feel honoured to share this narrative with the general public, and hopefully inspire those who might feel lost or divided at the moment."

Skorek went on to share that as an artist she is constantly in the creative process of looking for new inspirations.

It is indeed her bold references to Renaissance, Baroque and 19th-century paintings, plus her unique ability to sensitively tie them back to current affairs, that was one of the main reasons why she was invited to the National Gallery Masterpiece Tour exhibition, where her works are presented together with the works of Master of the Brush – Rembrandt.

The exhibition, which runs until 22.06.2022 is open to the public.